I'm wishing my f'list a very early Valentines Day, since it's already V-Day here in Aus. :-) Hope you all get lots of lovin'!

I am chronically behind on reading my friendslist, so apologies to all. I've been somewhat preoccupied with this little fellow: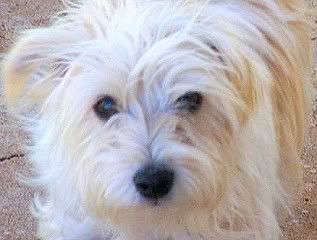 Oh, wise LJers! How do you make a little dog eat?! In the few days since he arrived, he's only eaten a very little bit of food from our hand. He won't eat out of his bowl at all. And this morning he wouldn't even eat from my hand! We've tried canned food, dried food and 'loaf' style dog food so far. So I'm branching out now--anyone got delicious doggy recipes to share?! He needs to eat! Apart from the normal nutritional requirements, he's on anti-biotics that should be taken with food. *frets*

In all other ways, he's settling in wonderfully: sleeping in his kennel, following us around, snuggling up to me when I'm on my laptop, being politely sociable with the neighbour's dog and not completely terrifying my cat.

All advice welcome!

Meanwhile, if you feel like sharing some fannish love, try these posts:

mahaliem asks what you love about SV fandom.

mskatej wants to talk about Clark and Lex in love.

_wisteria has an optimistic post about Pilot!Love for BSG fandom.
Check your negativity at the door! We're all about the love today.